Lustron Homes Were "A New Standard Of Living"
People worry about the affordability of their homes and crave something they can safely manage.  That was also the case after WWII. Hundreds of thousands of returning service personnel were marrying, starting families and seeking homes.  New neighborhoods opened up and "tract house" designs flourished for bungalows and ranch-style houses in undeveloped neighborhoods.  Newburgh saw this growth in its north and west ends in those late 1940's.
One of the most innovative of the post-war designs was the Lustron house.  Newburgh has a selection of them on the north end of the city on Hampton Place.  There are surviving Lustron homes in the nearby towns of Highland Falls, Liberty, Middletown and Croton as well.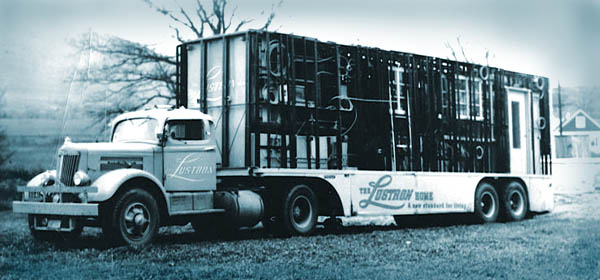 Lustron houses were totally innovative because of their materials and construction.  They were made of enameled steel panels inside and out and required no wood framing like a traditional house.  The external walls provided the steel skeleton that supported the house and so no interior walls were weight-bearing.  Everything for a Lustron home was pre-fabricated and was delivered to the building site neatly-packed on a specially outfitted truck.  A Lustron home could be erected and occupied in less than a month.  These houses were advertised as "a new standard of living" impervious to the threats to a traditional home: rodents, rot, rust, fire, lightning. They never needed painting since the exterior and interior walls and ceilings had a baked-on enamel finish, The same was true of the roof; its "shingles" were actually overlapping sections of enameled steel too. Lustron homes still clad in their original materials are distinctive since their exterior walls are sheathed in 2×2 foot panels with finishes of either grey, yellow, blue or tan.  Inside, walls were also glossy 2×8 foot enameled panels and ceilings were 4×4-foot eggshell-colored with an option for ceiling-mounted radiant heat within.  An incredible option for Lustron owners was a combination clothes and dishwasher, another space and time saver. A Lustron home was the choice for the busy family who wanted no maintenance or worries. Catalogs depicted housewives easily washing down their houses with a garden hose to return it to its sparkling new look.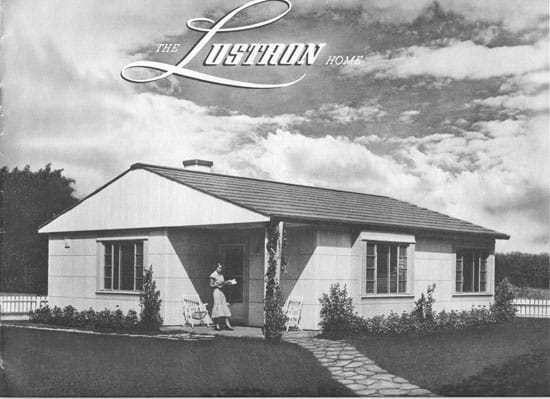 The Lustron process was not really new. The Chicago Vitreous Enamel Products Company had produced such enameled exterior building panels before World War II. They had made them for Standard Oil service stations and White Castle restaurants. Some of us remember these old businesses with their shiny exteriors clad in square panels.  It was the Chicago Vitreous patents and process that Lustron's founder bought to start his dream of manufacturing pre-fabricated homes.
At 990 square feet, a Lustron house was a small but efficient family home.  Most were two-bedroom models; some were three. All featured space-saving built-in cabinetry and pocket doors in each room.  Efficiency included the incorporation of gutters into the entry portico support that had a distinctive zigzag motif to also serve as a plant trellis. Every Lustron house had an oval ID marker in its utility room with its production serial number.
Sadly, the company only fabricated homes for two years, 1949 and 1950.  Demand outpaced production and sales revenue. The massive borrowing that company founder Carl Strandlund required to re-tool a Columbus, Ohio aircraft plant was more than he could pay with revenues from such a young venture.  The political support Mr. Strandlund needed for federal loans to fuel his expansion dwindled as trade unions and concrete companies saw the threat to their market.
Lustron homes had started with great fanfare. A model home, completely decorated by McCall's Magazine, was erected at the northeast corner of 6th Avenue and 52nd Street in New York City. It attracted 130,000 visitors.  Consumers Reports endorsed the Lustron. Emily Post, the arbiter of etiquette, praised the Lustron Corporation for its intelligent planning.  In 1949, Bamberger's department store began offering a complete suite of house furniture for a 2-bedroom Lustron for $1,400.  But a company that anticipated manufacturing 100 homes a day found it could only manage an average of 20.   At the end of its second year, Lustron had made not quite 2,600 houses. One hundred of those were shipped to New York.  Newburgh was lucky to have a few of them to give us a look at what was to be the future of modest, low-cost, high-quality housing.
The Preservationist (the quarterly journal New York State's Office of Historic Preservation) just featured the Lustron Home in its Fall-Winter 2007 issue. Additional information can be learned at these websites run by fans and residents of Lustron homes:
LustronPreservation.org and lustronconnection.org.
Mary McTamaney 2020