Last week, I gave you a short story about the Gillies family. I mentioned Jacob Gillies had purchased his farm from the Inness family, so let's take a look at them, especially since a rather renowned artist was born there, George Inness.
I know many of you will recognize this name, and many of you have viewed in awe his mastery of colors and painting. He is considered by some to be "the father of American landscape painting". His father, John William Inness (b. 1792, d. 1873), originally came from Scotland, and his mother was Clarissa Baldwin (b. 1794, d. 1841). They were married in Manhattan on November 17th, 1814.
Shortly thereafter, they moved to Newburgh. George was born here, in the wilderness which was our Town, on May 1st, 1825. He had two brothers and one sister. John William Inness tended to move about, perhaps this wanderlust is in the family's DNA, and by the time George was 5, the farm was sold to Jacob Gillies, and the Inness family headed to Newark, New Jersey. It was here George began to learn and develop his techniques of drawing and painting.
George was subject to epilepsy. He moved to New York City at the age of 16, to study engraving, but his health forced him to return to the family home, and resume his devotion to drawing and painting there. At the age of 20, he spent a month in New York City, studying with Regis Gignoux. And, thus concluded all the formal training he had, but his passion for his art, his natural ability to capture images on canvas landscapes, continue to develop and evolve.
This artist wasn't content to just sit around, and he began his exploits and travels, beginning with a couple of trips to Europe, living in Florence and then Rome for a period. Never content, he returned to the states and settled in Boston for a time. It was then onto Perth Amboy, New Jersey. Not satisfied there, he relocated to New York City for a brief interlude before sailing over to Italy and residing there from 1871 to 1875.
George fell in love and married a lady, Delia Miller. Sadly, she passed away the same year, shortly after the union in 1849. In 1850, he took his second wife, Elizabeth Abigail Hart (b. 1833, d. 1903). This union produced three daughters and one son.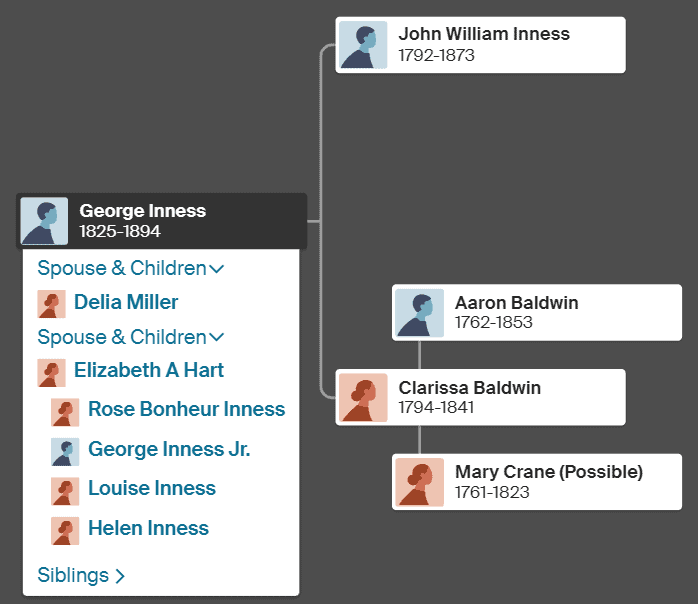 George's thirst to experience new scenery and places fueled his desire to travel. He was quite prolific and there are well over a thousand pieces of his artwork proudly being displayed around the world to this day. The next time a period landscape captures your gaze somewhere, take a look and see if his signature is there. Though he only spent the first five years of his life here, his love of the Hudson Valley and Catskills is evident in his work, which he continued to put on canvas, being associated with the Hudson River School of Painting.
While on a visit to his ancestral homeland, Scotland, on August 3rd, 1894, George passed away. According to some records, George and his son were standing on the Bridge of Allan, Stirlingshire, Scotland, appreciating a sunset. Suddenly, as they were admiring the beauty of nature, George threw up his hands in the air and exclaimed "My God! Oh, how beautiful!" He then fell to the earth, leaving this world a few minutes later.
I have to believe his love of the natural world about him began here in our Town. Thanks, George, for grasping all the moments of your time, and using your brush and oils, to preserve them for us to enjoy for the ages.