Nothing but a Chimney remains at the site of Gidneytown and the old Gidney Grist Mill built in the Early 1800s by Eleazer Gidney the 3rd. I grew up playing in both Fostertown and Gidney Creeks and just before moving into the town the old Gidney Pond had been filled in. As the story goes, a young boy had drowned in it so they filled it in. 
You can see the old Pond on the 1864 Map below. It crossed over what is now North Plank Rd. where Shop Rite is directly located today. It was a swamp when we were kids. Burger's Furniture Store had moved from Water St. up to where Walgreens is now. With Chestnut Lane running between North Plank and Route 9w, the Development including Noel Drive and Rockwood and Wood Terrace being new. There was a Shell Station on the corner with the Coldest 10cent bottles of coke you could buy that my friends father across the street from us owned. It was later taken over by Mr. Rizzo who used to make sure our bicycles had air in the ties. I remember him letting me take a ride on the lift which I thought was way cool. But I digress.
From a History of the Town of Newburgh, by Edward M. Ruttenber, @ 1859. (Available here under "Research" along with other research books and news articles).
Excerpts:
The Settlement known as Gidneytown originally
embraced the patent to John Spratt, which was purchased about the year 1760 by Eleazer Gidney, whose four sons, Joseph, Daniel, David, and Eleazer, about that time settled upon it. A part of the original purchase remains in the possession of the family.
Fostertown Creek. This stream rises in Ulster County then flows through Fostertown and Gidneytown and empties into the Quassaick Creek at Niven's mill. It is called Fostertown creek until it reaches Gidneytown when it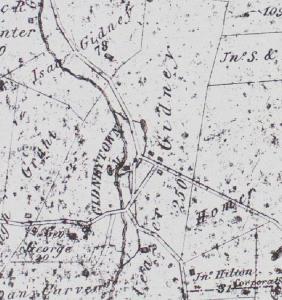 takes the latter name. In 1798, Smith's and Denton's sawmills were on this stream. The Gidney mill was erected at a later period and is still standing. (or at least it was in 1859 when this was written).
An article regarding Saving the Chimney from "The Evening News – 1963 (Exact Date Not Known but sometime during the spring\summer)". The entire area was cleared for the new "GidneyTown Sewer District Plan".  So the only thing left today is the Chimney Stack. A bleak reminder of the family that settled the area and worked hard and whose ancestors were very active in the community.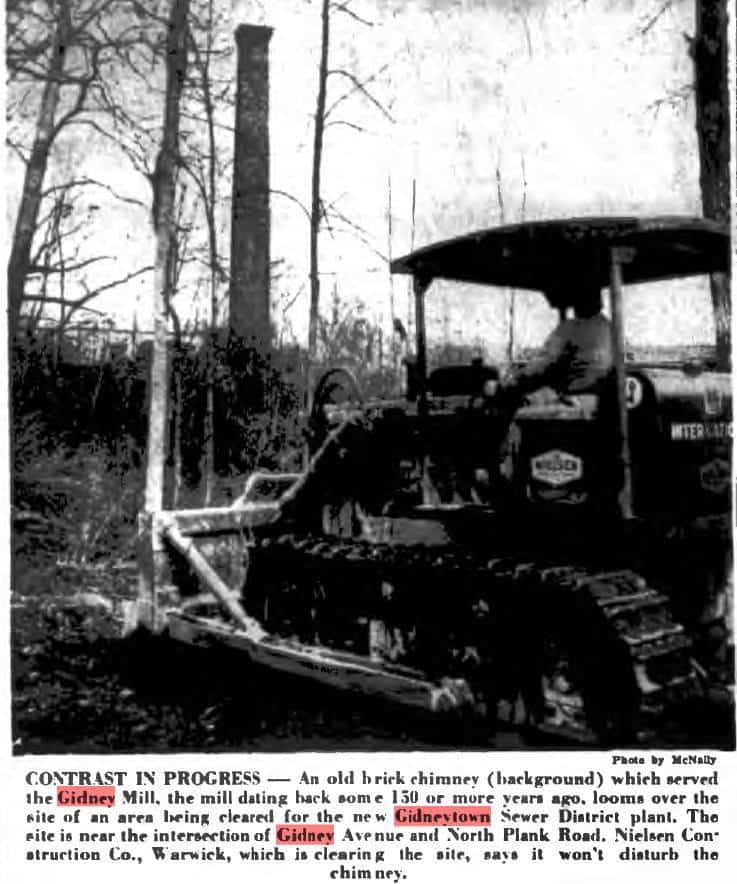 But we are fortunate to have that marker to remember what occurred here. And the Chimney Stack to remind us of what was and how the area came to be. There are always lessons to be learned from their history.