Well, I guess this article is the last part of the trilogy from my research on the Robert Ross House. When Thomas Aderton passed away, his only son, John Lamoreaux Aderton, became the proud owner of the property. The influence provided by his father, Thomas, obviously shaped John's career and life. Let's take a look.
John was born in New York City on April 3rd, 1803. His childhood must have been an exciting one, especially due to his father's occupation. Imagine, he was only about ten years old when his Dad left on the Saratoga in search of fortune and adventure, not returning for over a year. There were not the "breaking news" interruptions we have on social media and television today, only the occasional newspaper articles documenting the plunder the privateers were bringing in, and it would seem his father led the pack. I can picture young John walking about the harbor, visiting the docks, asking the mariners and old salts if anyone had word of his father's ship, the Saratoga.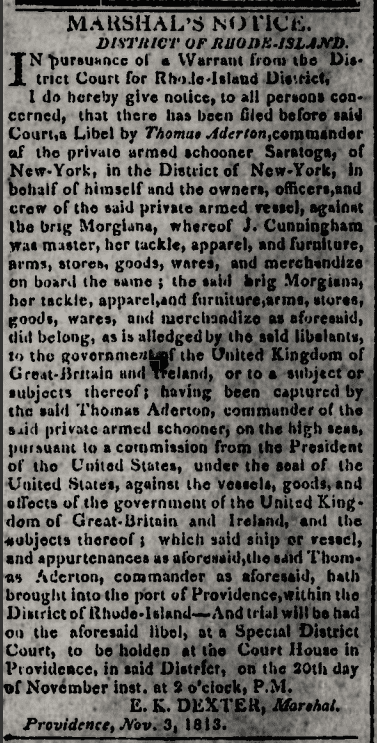 John followed in his father's footsteps, becoming a seaman, and eventually graduating to captain. By the age of eighteen, he was serving as a mate with his father aboard his ship, learning the trade. His father was a hard taskmaster by all accounts, but beloved by his crews. I found one article from 1820, which illustrates his draconian manner. Since it is believed John began sailing with his father around the age of eighteen, he may have been aboard when the incident occurred when Captain Aderton returned to his vessel and found no regular watch had been set. Infuriated, he assembled the crew and demanded an answer. When none was given, he drew his saber and slashed at the members of the crew closest to him, wounding two of the seamen, one of who eventually succumbed to his wounds. According to the article, no one bore him ill will, even the mortally wounded man.
By his late 40s, Thomas arrived here in Rossville, later known as Savilton, with his wife, Adah, and son, John, and John's wife, Isabella Swain (b.1806; d.1888), in 1828, transitioning to a life of farming, before passing on in 1838. John's middle name is his mother's maiden surname, Lamoreaux. Many people have researched this family line and their efforts are available on a number of genealogical platforms.
John was as talented as his father and rose to the rank of captain, sailing the high seas. Before moving to Rossville, he married Isabella Swain from New York City, whose father incidentally was also a ship's captain. He was active in the community and held a few offices, including Highway Commissioner, School District Clerk, and not the least, a member of the Horse Thief Detecting Society of Newburgh, helping to move us forward as the area was settled. While John was an only child, with Adah, his wife, they had two sons and seven daughters! I've shared one public family tree so you can observe how his family spread and populated our Town. His one son, Thomas, was not only a farmer but served in a number of offices in our community, including being Town Clerk for nine years and Excise Commissioner for twelve years as well as being appointed Post Master of Savilton (Rossville) in 1891, when he purchased his store.
John lived a long and prosperous life, a blessing to us and our community, helping to lay out the original roads in our Town. He died within a year following the passing of his beloved Isabella, his wife, which is said to have dramatically saddened him. He never lost any of his natural abilities of sight, hearing, speech, and understanding, even after sixty-one years of farming. We have much to thank this man, and the entire family, for. Sadly, the stained glass window in the Rossville Church dedicated to John and Adah has collapsed. It is hoped it can be restored when funds are raised to pay for this.