Remember playing pirate when you were little? Have you enjoyed the Pirates of the Caribbean movies? Dressed up like a buccaneer for Halloween? Do you secretly wish you were Captain Jack Sparrow sailing to adventure on the Black Pearl? And, last, but not least, do you realize the only difference between a pirate and a privateer is on whose side won the war? If none of this interests you, don't bother reading any further, you won't enjoy learning about who lived in the Robert Ross house next. See you next week!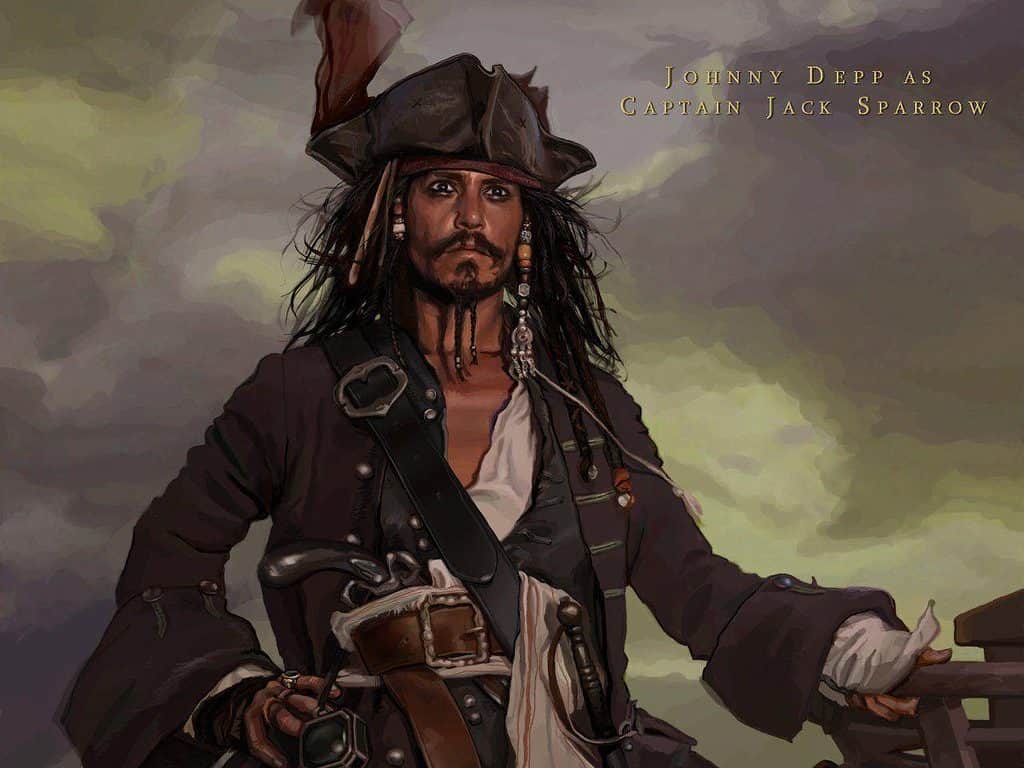 In 1828, a gentleman, Thomas Aderton, purchased the stone house I previously wrote of, Robert Ross's home, a couple of weeks ago. Thomas came here from New York City. He was born in New London, CT, on November 4th, 1870, to Samuel Aderton (b.1753; d.1851) and Lucy Brewster (b.1751; d.1826). Thomas had one sibling, Mary. In 1802, on August 7th, Thomas married Adah Lamoreaux (b.1780; d. 1861) in New York City. This union produced one child, John Lamoreaux Aderton (b.1805; d.1889).
What is interesting is Samuel was born in Plymouth, MA, before moving to New London, which appears to be the birthplace of his wife, Lucy. Thomas was born in New London, before moving to New York City, which appears to be the birthplace of his wife, Adah. All three locations are coastal towns with seaports. I wonder if there was a longing for adventure as they gazed out on the sea in their youth.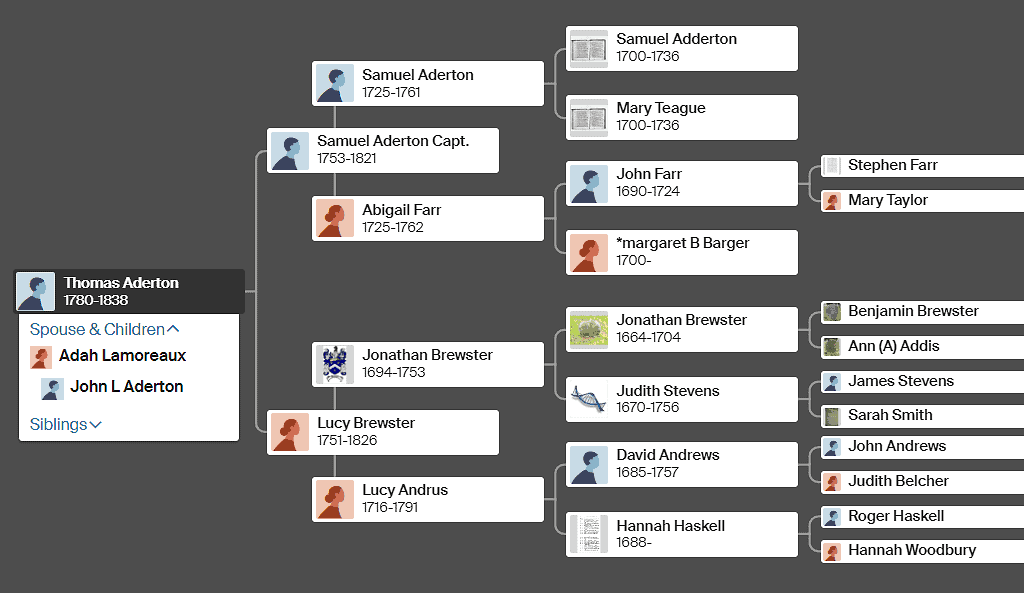 Before changing occupations and taking up farming, when he purchased the Robert Ross estate, Thomas Aderton sailed the oceans. This really doesn't do the gentleman justice. He was Captain Thomas Aderton, a privateer sailing the schooner Saratoga out the port of New York City. A bold and cavalier swashbuckler!
At the onset of the War of 1812, the American Navy consisted of only seventeen vessels. Even at the peak number of ships afloat, the total count only achieved twenty-three ships. To augment the struggling new navy, the void was filled by merchants, bold men, who converted vessels to become privateers. During the first three months after a Declaration of War was issued, New York City sent out twenty-six privateers. The Saratoga was one of the earliest leaving port to seek out enemy vessels and treasure!
Most of the Saratoga's time was spent sailing the area from Newport, New Bedford, and Wilmington, North Carolina, not returning to its home port until the end of the war due to the British blockade. Her original commander was Captain Charles W. Wooster. He was an outstanding person and did our country proud.
The Saratoga's second commander was our Thomas Aderton, leaving Newport on July 8th, 1813, with a crew of one hundred twenty men, commencing on an extremely profitable journey. When he returned to port with his booty, newspaper notices were posted declaring what had been taken. He was an aggressive mariner and warrior who seized the opportunity to do both service to his country as well as increase his net worth with his share of the plunder.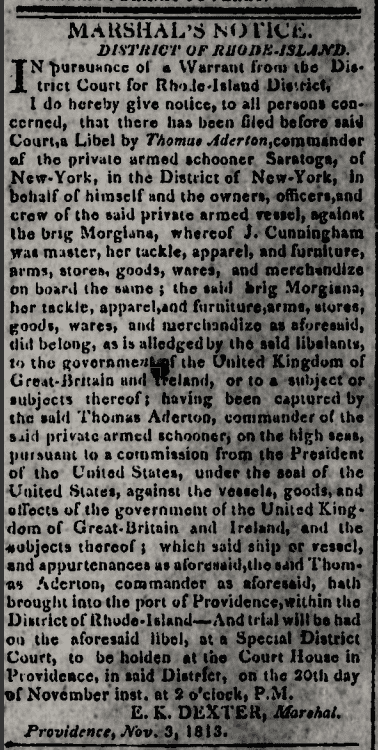 While researching this history of the house, I first discovered some news articles proclaiming the prizes captured by Thomas Aderton. I had to know more and finally located an article in The War of 1812 Magazine, Issue 15, May 2011, by Professor Harvey Strum, which provides a detailed account of the Saratoga under the command of Captain Aderton. His exploits cannot be included here due to a lack of space, but most definitely deserve reading! You will be amazed on what he accomplished! There were a number of intense naval battles, broadsides, and hand-to-hand battle to capture the enemy's ships. Captain Jack Sparrow doesn't even come close. The link to this article is: https://www.napoleon-series.org/military-info/Warof1812/2011/Issue15/c_YankeePrize.html
Here is a snippet from that article:
Off the Surinam coast Saratoga gave chase to an English packet brig. After a twenty-four hour chase the Americans got 'nearly within musket shot" when the English brig opened fire cutting away Saratoga's "both fore topmast backstays" and damaging the mainsail.[13] The Americans cut off the escape of the brig, Morgiana, to Surinam, and "having got within good musket shot of the Enemy" Saratoga "hoisted American colours (sic)."[14]  The two ships exchanged broadsides. After firing round grape and muskquitry as well as additional broadsides the two vessels maneuvered "to get a raking position and to avoid being raked."[15] For over an hour the two ships exchanged fire until the Americans got close enough to use their grapplings to board the enemy. The British ship managed to disengage the grapplings. George Fellows, Prize Master, jumped overboard to avoid capture but the ship's carpenter, Ebenezer Compton, was taken prisoner. Firing continued for another twenty minutes before the Americans finally boarded Morgiana and completed the capture. In the engagement, the British lost two men killed and eight wounded, six mortally. Americans lost two killed and six wounded, one of them mortally. "Both vessels were left almost wrecks,"[16] but Morgiana, described by Captain Aderton as a beautiful brig, was "now a Yankee Prize."[17]  Historian Edgar Maclay described the engagement as 'one of the most obstinately contested actions between an American privateer and a British government packet."[18]
In the Rossville Church, one of the stain glass windows has a maritime theme. Perhaps this was donated by the Aderton family to commemorate the brave men who have served our nation on the seas, both during the War of 1812, and in the years after. One can wonder…
The Aderton family plot is overgrown and the Rossville Cemetery Association has selected to make it a priority this spring to begin cleaning it and bringing it a new life, clearing the brush and trees. If you wish join in, or learn more, reach out to them on their website: rossvillecemetery.org