Abraham Levitt, the man who arguably built more suburban homes in the United States than anyone else in the years following World War II once said that: "No single feature of a suburban residential community contributes as much to the charm and beauty of the individual home and the locality as well-kept lawns."  However, the ubiquitous American suburban lawn in America began 100 years before in 1841 when a 25-year-old resident of Newburg New York named Andrew Jackson Downing published a landscape-gardening book entitled, "Treatise on the Theory and Practice of Landscape Gardening." It counseled readers to improve themselves by improving their front yards. He believed that the perfect front yard had to have a large area of "grass mown into a softness like velvet." The book was quite a success and made Downing famous. Downing along with Fredrick Law Olmstead, Calvert Vaux, Frank J. Scott, and other landscape architects set the guidelines for generations of American landscape designers to come. In 1870, for instance, Scott published the first volume ever devoted to "suburban home embellishment": The Art of Beautifying Suburban Home Grounds.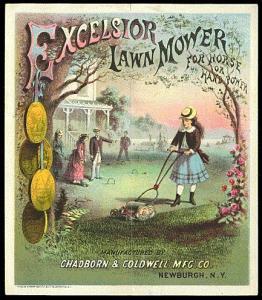 However, the realization of their lawns was beyond the reach of the ordinary citizen as even maintaining smallest lawn was a labor-intensive proposition. Furthermore, the equipment required was quite primitive and one needed just the right touch with a sharp and dangerous scythe to cut it at the right angle and length to give it the desired appearance. On the other hand, if one had them, one could let their herd of goats or sheep go at it. This was impractical and of course, the lawn owner was then left with the unpleasant task of cleaning up animal waste.
The fact is that lawns never would have become popular without lawn mowers and trade cards of the 19th century often depicted women and children dressed in pretty clothes having fun pushing the advertised lawn mowers over the broad lawns of large houses. These advertisements linked the lawn with a home in the country, family, health, and recreation. In fact, few women and very few children could have used the heavy cast-iron mowers of the period and It is said that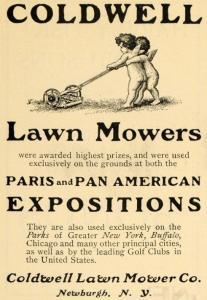 Andrew Jackson Downing had his lawns mowed at night "by invisible hands" so that his family and guests would not have to witness this "distasteful activity" (Handlin). The hired help did the mowing. However, the advertisements were attractive and, in some, young women even displayed quite a bit of ankle and leg. The message to men was that the equipment was so lightweight that even a woman or child could use it–that mowing was fun–like child's play.
There is some doubt as to who was the original inventor of the mechanical lawn mower. An old document in the United States Patent Office, dated 1825, shows that one James Ten Eyk, of Bridgewater, N. J., invented a mowing machine. It was simple, having a box like a wagon box, with the forward end open, furnished with two shafts, one at the front end, on which were placed the revolving cutters, and the other above the center of the box on which were the driving wheels, and on which the box was hung. The driving shaft had on it two drive pulleys corresponding with two smaller ones on the cutter shaft and the two were connected by means of two rope belts. It was a revolving cutter field mower and is the first revolving cutter of which any record can be found, but the inventor did not claim that it was a lawnmower. The next authentic record of a revolving cutter mower was one invented by Edwin Budding, of Stroud, Gloucestershire, England. Budding was born near Stroud in 1796. He was evidently an inventor, draftsman, and mechanic of considerable ability. He invented the Budding wrench and various machines for use in the manufacture of woolen cloth. He was superintendent for the late George Lister, a manufacturer of Dursley, England. It is claimed that Budding took the idea of the lawn mower from a cloth clipping machine. He was granted a patent for his new invention, dated October 25, 1830, and there is an advertisement, dated 1830, shows that he sold three sizes of lawn mowers, manufactured in Stroud.
Strangely enough, another Newburgh resident, Horatio Swift, resolved the labor intense problem of maintaining a pristine lawn. Previous to 1855 probably all lawn mowers used in America were of English make. A few years prior to this a Mr. H. W. Sargent, of Fishkill, (and a close friend of Andrew Jackson Downing) received a mower from England and sent it to Mr. Swift to be repaired, and it was upon Mr. Sargent's suggestion that Swift began the manufacture of these machines. His advertisement dated 1855, states that he made four sizes ranging in price from $30 to $80. In his Matteawan plant the smallest mower he made weighed one hundred and fifty pounds and cost sixty-five dollars; the largest, horse-drawn, was a forty-two-inch mower and cost over three hundred dollars. Sargent's own mower was horse-drawn; he said that with such a mower it was possible to accomplish in two or three hours more than a dozen men in a whole day. It could cut, roll, and gather the grass from an open acre in one hour.
For a number of years Mr. Swift had a monopoly of the lawn mower manufacturing trade in the U.S. but this ended in the late 1860s-early 1870s when two of his employees George L. Chadborn and Thomas Coldwell bought Swift's stock, and goodwill, and went to work on their own and formed the firm of Chadborn, Coldwell & Company, which began operations in Newburgh producing the Excelsior Roller Mower.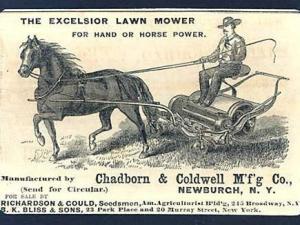 It has been estimated that at this time there were only about three hundred American-made machines, plus a few imported English machines, in the country at that time. By 1891 the Chadborn & Coldwell Manufacturing Company of Newburgh was producing twenty thousand machines annually and was in the process of expanding to be able to produce thirty thousand. In the same year, Thomas Coldwell withdrew and formed the Coldwell Lawn Mower Company of Newburgh, and planned a new factory which could produce from 150 to 200 mowers each day. The business established by Thomas Coldwell was continued after his death in 1905 by his two sons, William H. and Harry T., and it remained in business into the 1940s. Over the years it was merged into various other manufacturing companies and ultimately became part of the current Toro Company of Minneapolis, MN.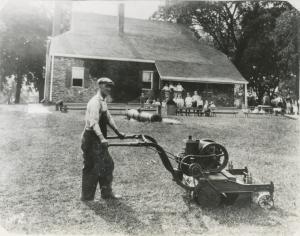 Sources
The History of Orange County New York Edited by: Russel Headley – Van Deusen and Elms, Publishers. Middletown, N. Y. 1908.
Downing's Newburgh Villa. Arthur Channing Downs, JR. Bulletin of the Association for Preservation Technology, Vol. 4, No. 3/4 (1972), pp. iv+1-113