Lake View House opened in the mid-19th century, adjacent to the south shore of Orange Lake in Newburgh. It still operates today as a barroom and fine dining restaurant.
(Photo: Anthony P. Musso/For the Poughkeepsie Journal)
In 1899, the Lake View House was the first business in Orange County to be issued a liquor license. It is still on display in the barroom. (Photo: Anthony P. Musso/For the Poughkeepsie Journal)
Built in the mid-19th century, Lake View House in the Town of Newburgh is a lasting remnant of a once flourishing resort community that existed around Orange Lake. Perched on a bluff overlooking the lake, the establishment still boasts a classic barroom and fine dining restaurant, while the lodging that was once available on its second level is gone.
The business has the distinction of being issued the first liquor license in Orange County, in 1899. The original certificate is still on display over the bar.
During the late 19th and early 20th century, Orange Lake was a popular summer resort that featured cottages, boat clubs, a dance hall, roller-skating rink and a theater. The Jack Rabbit excursion boat took guests on a ride across the lake, where swimming, fishing and rental canoes enhanced the activities available.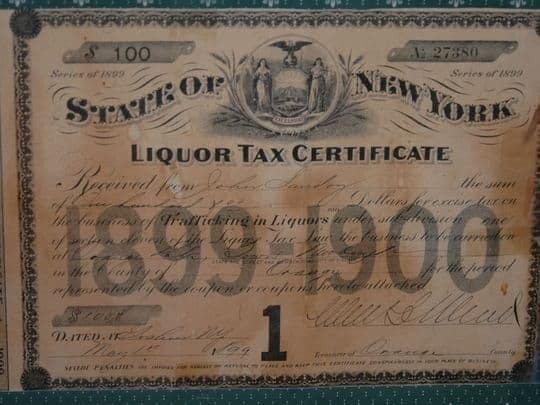 On the north side of the lake, an amusement park that featured a Ferris wheel, penny arcade, carousel, shooting gallery and picnic grove entertained guests during daytime hours, while the Pine Point Casino featured top name entertainment at night.
"Frank Sinatra was one of the many top artists that performed at the casino," said restaurant co-owner and chef James Carter, who with his wife Tori purchased Lake View House in 1992. "I've had people come in and tell me that their grandfather used to bring them in here or that they had their first drink here 75 years ago."
The restaurant, barroom and at that time, guest rooms, accommodated weekend and weeklong guests from as far away as New York City to enjoy a meal, drinks and an enviable view of Orange Lake. The building boasts slate gray siding, a wraparound porch and a second-floor exterior balcony, and its interior dining room still features its original tin ceiling.
"The business was originally named Lake View House and then it changed to O'Malley's for many years," said Tori Carter. "When we purchased it in 1992, we changed it back to the original name.
"The last owners of this place had closed it before Jim and I bought it," she said. "Jim attended the Culinary Institute of America in Hyde Park and worked at a very high-end restaurant with an extensive wine list in New York City."
Since purchasing the building 26 years ago, the couple has overseen a number of renovations and upgrades, including outside dining on a patio and oversized windows installed in a second dining room, which was once a screened-in back porch overlooking the lake.
The walls in the vintage barroom include framed displays of numerous early 20th-century postcards of the resort area, trolley schedules, which in summer ran from 5:50 a.m. through 11:59 p.m. and cost 10 cents per ride, and even an old menu from the business; filet steaks cost 25 cents while a glass of wine went for 20 cents a glass and a dry martini sold for 25 cents.
When prohibition, legislation that placed a nationwide ban on the production, importation, transportation and sale of alcoholic beverages was implemented in 1920, O'Malley's (today's Lake View House) barroom — like many other drinking establishments in the region — became a speakeasy. With eager suppliers such as mobsters Dutch Schultz and Legs Diamond, the business thrived.
Later that decade, when the stock market crashed in 1929 and was followed by the Great Depression, many of the resort's attractions could no longer sustain the loss of tourists, resulting from lost incomes and widespread unemployment. Summer cottage colonies began to close and visitor numbers diminished.
After World War ll, trolley service shut down and the amusement park closed. The Pine Point Casino experienced a devastating fire and was never brought back to its original luster.
Through it all, Lake View House survived and continues to flourish with its classic barroom and restaurant.
"From our location, we still have the most beautiful sunset," Tori Carter said.
The Lake View House is at 343 Lakeside Road, Newburgh.
"Dateline" appears Wednesdays. To suggest a topic, email Anthony Musso at railcommute@gmail.com